The Kingdom of Bhutan remained largely cut off from the rest of the world up until the early 1960's. Entering the country was difficult as it was only accessible by foot from two main entry points, one in the North and another from the South. The Northern route was through Tibet, crossing high mountain passes that were inaccessible throughout the winters.   The second entry route from the South came through the plains of Assam and West Bengal. The high frozen passes in the North and the dense jungles in the South made it extremely difficult to enter the country.
However, carefully planned economic development has made the country much more accessible and there are now a network of roads entering and traversing the country, as well as one international and multiple domestic airports.
Today the main roads entering the country are through Phuentsholing in the south, linking Bhutan with the Indian plains of West Bengal through the border towns of Gelephu, in the central region and Samdrup Jongkhar in the east, that link Bhutan with the Indian state of Assam.
Travel By Land
Phuentsholing, Gelephu and Samdrup Jongkhar are the only land border areas open to tourists.
The town of Phuentsholing in south-west is located approximately 170 km east of the Indian national airport at Bagdogra. After crossing Phuentsholing, you begin your journey to Thimphu, the capital city with travel time of about six hours for the 170 km stretch.
Gelephu, in south-central Bhutan, is another entry point to Bhutan. It is approximately 250 kms from Thimphu and the journey will take you through the sub-tropical areas of Bhutan before entering the alpine zone and then finally into Thimphu. One will have to traverse across three districts and the travel time will be about ten hours.
The district of Samdrup Jongkhar in south-east Bhutan borders the Indian district of Darranga, Assam and is approximately 150 kms away from Guwahati, the capital city of Assam. The journey from Guwahati is about three hours. Tourists entering Bhutan through Samdrup Jongkhar will take you to Trashigang, and from there over the lateral route to Mongar, Bumthang, Trongsa, Wangdue Phodrang and then finally into the capital, Thimphu. The distance is about 700 kms and will take you a minimum of three days to reach Thimphu.
Travel By Air
There are flights to destinations that include Bangkok, Delhi, Kolkata, Bagdogra, Bodh Gaya, Dhaka, Kathmandu, Guwahati, Singapore and Mumbai.
Paro is situated at a height of 2,225 m (7300 ft) above sea level and is surrounded by mountains as high as 4,876 m (16,000 ft). At present two carriers operate to Bhutan, Drukair and Bhutan Airlines. There are also domestic airports in Yonphula in eastern Bhutan, Bumthang in central Bhutan, and Gelephu in south-central Bhutan.
Flying into Bhutan's Paro International Aiport is typically an exciting experience as the descent into Paro valley brings you closer to the mountain tops than most other flights in the world. The flight between Paro and Kathmandu is one of the most exciting ones as the aircraft passes over four of the five highest mountains in the world. In fine weather, as you soar higher up, you can enjoy the spectacular view of Mt. Everest, Lhotse, Makalu and Kangchenjunga at their best.

With the exception of visitors from India, Bangladesh and Maldives, all other visitors travelling to Bhutan need a visa.
Indian, Bangladeshis and Maldivian nationals can obtain a permit at the port of entry on producing a valid passport with a minimum of 6 months validity (Indian nationals may also use their Voters Identity Card (VIC)).
All other tourists must obtain a visa clearance prior the travel to Bhutan.  Visas are processed through an online system by your licensed Bhutanese tour operator directly or through a foreign travel agent.
You are required to send the photo-page of your passport to your tour operator who will then apply for your visa.  The visa will be processed by the Tourism Council of Bhutan (TCB) once the full payment of your holiday (including a USD $40 visa fee) has been wire transferred and received in the TCB bank account.  Once received, the visa clearance will be processed within 72 working hours.
At your point of entry you will be required to show your visa clearance letter, the visa will then be stamped into your passport.
Online Regional Permit System
In order to streamline and facilitate smooth visitation by tourists from Bangladesh, India and Maldives, the Department of Immigration, Ministry of Home and Cultural Affairs and the Tourism Council of Bhutan have launched the Online Permit System. The system facilitates the online processing of permits for regional tourists through registered Bhutanese tour operators and TCB certified hotels. The facility is offered as an optional channel to process permits for visitors from the region and is applicable for entry from Paro and Phuntsholing. Visitors who use this facility will be able to obtain their permit clearances and route permits ahead of their arrival in Bhutan similar to international tourists.

A wide variety of accommodation is available ranging from luxurious 5-star hotels to cozy little hotels and homestays in traditional Bhutanese homes and settings. Visitors can be assured of their warmth and comfort of the hotels. Similarly, the ambiance and hospitality offered by the hotels are incredible.
The types of accommodations can be divided into:
1. Hotels
2. Guest Houses
3. Farm Stays
4. Home Stays
Additionally visitors embarking on long treks will be provided with tents and whatever other camping equipment is deemed necessary. Regardless of where they stay, visitors can be assured of their comfort and traditional Bhutanese hospitality.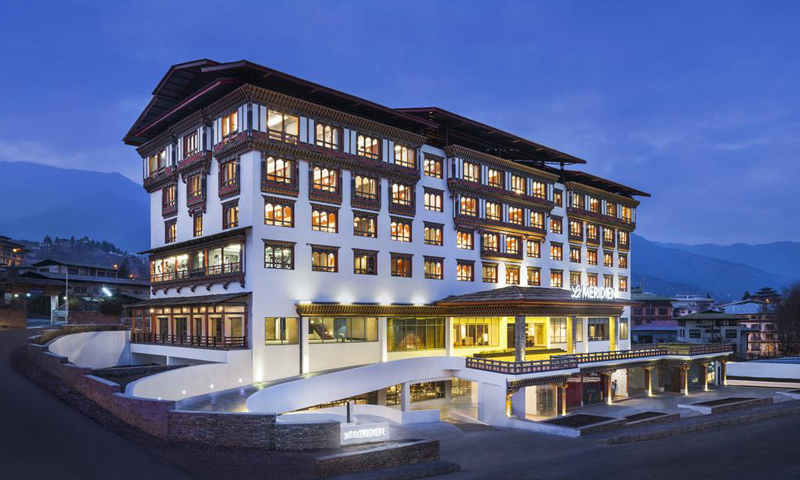 Hotels
Hotels in Bhutan are rated according to a National 5 Star rating System. All Tour Operators are required to provide their guests with a minimum of 3 Star accommodations so you can be assured of your comfort. Most hotels provide their guests with Television, Room Service, Fitness Centers, Spas and Wi-fi. However the exact services available will vary from hotel to hotel.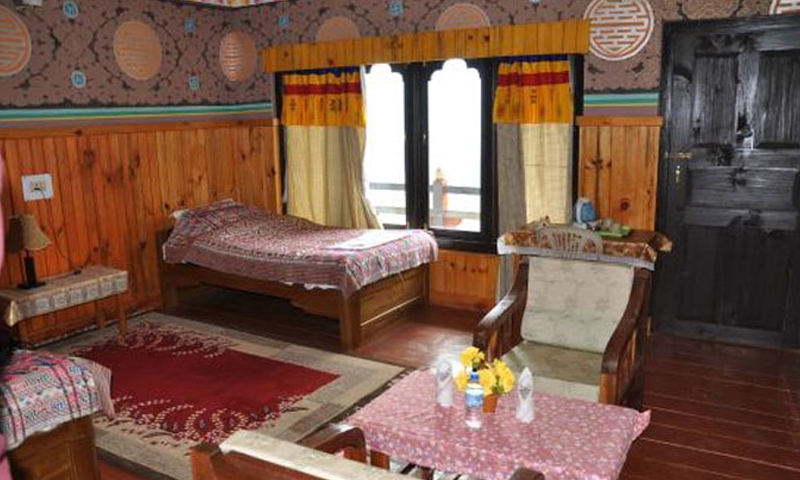 Guest Houses
There are various Guesthouses located around Bhutan. They are graded on the same scale as hotels. The exact.services available can vary among Guesthouses.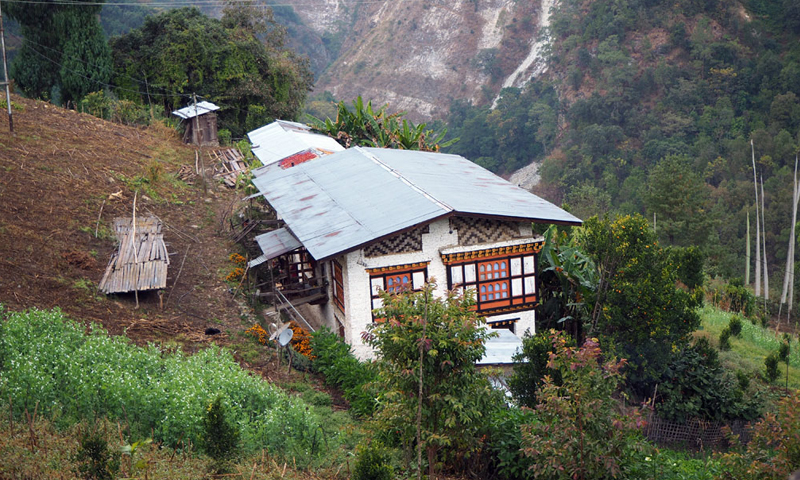 Farm Stays
.Visitors also have the option of spending a night in a traditional Bhutanese Farm House.
All officially sanctioned and listed Farm-stays are located in the gorgeous Bhutanese countryside amidst lush farmland far from the noise and crowds of population centers.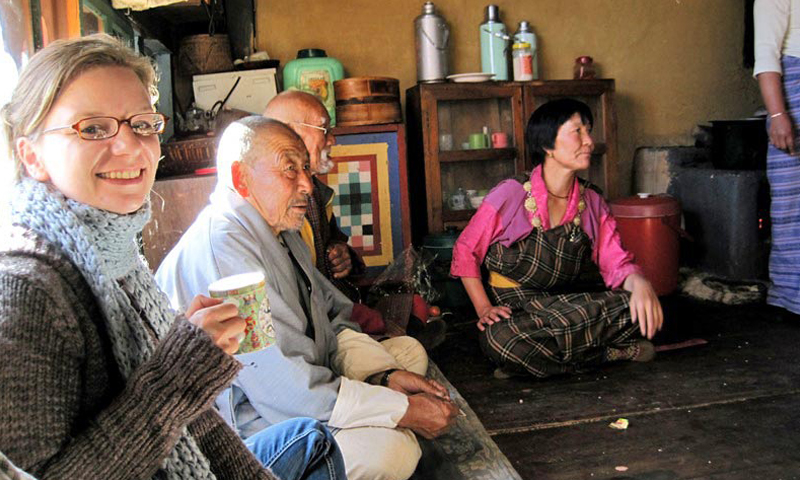 Home Stays
Visitors have the option of spending a night in the traditional home of a Bhutanese family. A home stay will give you an excellent glimpse into.the day-to-day life of a typical Bhutanese family.

ATMs are located within all main towns throughout Bhutan, where money can be withdrawn using a Visa or MasterCard. For concerned travelers a list of ATM locations throughout Bhutan is provided in the following links.
1. For BoB (Bank of Bhutan) account holders: BoB ATM Locations
2. For BNB (Bhutan National Bank) account holders: BNB ATM Locations
3. For PNB (Druk Punjab National Bank) Account holders: PNB ATM Locations

Bhutan has four distinct seasons and each season has its own beauty and charm. Bhutan is an year-round destination. So, it is entirely up to you to decide your travel period.
1. Spring (March, April & May)
Spring is a botanist's delight as various flowers start to bloom.and plants start budding after their long dormancy in winter. Flowers such as rhododendron, wild azaleas, and edelweiss cover the meadows like carpet and add a new sense of wonder.to the Bhutan's landscape.
2. Summer (June, July & August):
It is an abundant time of the year as flowers are in full bloom and valleys are covered in green, weeping willows sweep the banks of many of the river and pine cone glisten in the sun, so full with risen they are ready to plummet to the ground.
3. Autumn (September, October & November)
This is the time when the entire landscape turns into golden color. The farmers harvesting their crops in the golden colored paddy fields under the crisp blue skies is just an amazing view of Bhutan's landscape in the Autumn season.
4. Winter (December, January & February)
Winter has its moments. The days are full of sunshine while evenings can turn chilly. Soft turfs of clouds drape lazily over mountain tops as if waiting for new life to blow it across the landscape. The winter season in Bhutan gives one a clear view of the world's highest Himalayan mountain ranges covered in snow.
Frequently Asked Questions
1. Where is Bhutan?
Bhutan is a small, landlocked nation located in the eastern Himalayas between India and China. Its landscape ranges from subtropical plains and forests in the South to subalpine forests and snowy mountains in the North. Bhutan is a predominantly Buddhist country and is known as the last stronghold of Mahayana Buddhism.
2. Do I need to use a tour operator to book my travel?
It is a government regulation that you must use a licensed Bhutanese tour operator to book your travel to Bhutan or one of their international partners.
3. Do I need a visa to enter Bhutan?
All International tourists wishing to enter Bhutan require a visa which must be pre-arranged through a license Bhutanese Tour Operator or one of their international partners. Visa clearance must be obtained through your tour operator prior to travel. For Indian passport (or VIC) holders, Bangladeshi nationals and persons from the Maldives may obtain a visa on entry.
4. How much does the visa cost?
For International tourist visas, a cost of USD 40 is applicable. This can be paid in advance to your tour operator or travel agent. For Indian passport (or VIC) holders, Bangladeshi nationals and persons from the Maldives, there is no cost incurred.
5. How do I get to Bhutan?
There are a number of airports where you can fly into Bhutan from (Bangkok, Delhi, Kolkata, Bagdogra, Bodh Gaya, Dhaka, Kathmandu, Guwahati, Singapore and Mumbai.). At present two carriers operate to Bhutan, Drukair and Bhutan Airlines. Also, there are three land border crossings which you can travel into the kingdom overland. All crossings are along the Indian border only - Phuentsholing, Gelephu and Samdrup Jongkhar. All travel arrangements to Bhutan must be made through a local tour operator. A list of tour companies operating in Bhutan is available on this website. Your selected tour operator will make all the necessary arrangements.
6. What does the $200/$250 per day minimum daily package include?
The $200 per day (January, February, June, July, August) and $250 per day (March, April, May, September, October, November) package includes a minimum of 3 star accommodations, costs for food, an experienced guide and transportation within the country. Also included in the price is a $65 per day Sustainable Development Fee that goes towards free education, free healthcare and poverty alleviation. All of these services will be arranged by your tour operator.
7. What currency is used in Bhutan?
Bhutanese currency is known as the Ngultrum. Its value is tied to the Indian Rupee which is widely accepted in the country.
8. Is there a limit on the number of tourists that can enter Bhutan each year?
There is no limit on the number of tourists allowed to visit in a year. In order to protect our culture, traditions and natural environment, the government has adopted a unique policy of "High Value, Low Impact ". This policy is aimed at attracting discerning tourists that will respect the unique culture and values of the Bhutanese people while also providing the visitors with an unforgettable one of a kind experience.
9. What's the food like in Bhutan?
The most distinctive characteristic of Bhutanese cuisine is its spiciness. Chillies are an essential part of nearly every dish and are considered so important that most Bhutanese people would not enjoy a meal that is not spicy.
Rice forms staple Bhutanese diet. It is accompanied by one or two side dishes consisting of meat or vegetables. Pork, beef and chicken are consumed most often. A wide selection of western and Indian food is also available in many of the restaurants around the country.